Get her a Pretty Pedicure Salon for Girls. Many girls love to get together and do spa treatments. Nails are always part of the process.
Pedicures and making their feet glamorous is usually included on these fun little parties. It can be great trying and testing colors of nail polish and learning to take care of toenails. Who doesn't love the feeling of soaking their feet?
These pretty pedicures are a great way to have fun in multi girl homes whether they are multi-generation such as grandmother, mom, and daughter or the girls are just a few years different in ages.
Plan a girls night and get the Pretty Pedicure Salon for the girls in your life.
Pretty Pedicure Salon for Girls
Faber Castell Pretty Pedicure Salon

Inflatable pedicure pool
3 colors nail polish
Toe separator
Nail buffer and file
Confetti soap
More Nail Kits for Girls
There are many nail kits from which to choose and options of stickers and colors. Depending on the age of your recipient, you can find several to suit your needs. I have listed many below and clicking any of the images will take you to the website to see more detail and current pricing information for these products.
Ultimate Nail Studio

Cra Z Art

Nail Art (Klutz)

American Girl Crafts

Creativity for Kids

Creativity for Kids

Fashion Angels 3D

Princess Hand Spa

Nail Art -BEST

Barbie 3D Nail

Big Girl Manicure Sets
If you have an older gift recipient in mind, you may find that one of the items shown below will be a better fit for the age of the girl. Get one for each of your ladies to carry in her purse in case she breaks a nail.
Polka Dots Manicure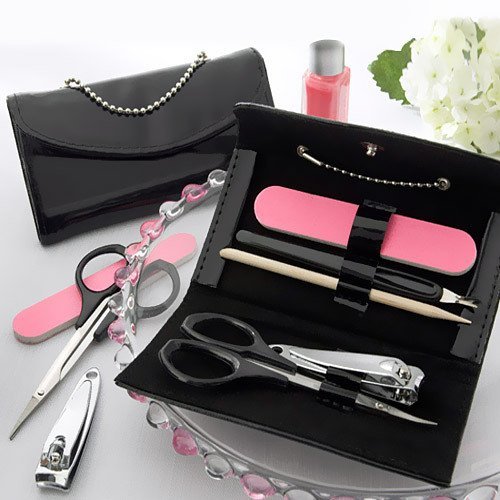 Little Black Purse
Glitter Manicure Nail
Purse Zinc Alloy
&