Zoomer the Robot Dog is a gift your child or grandchild will love to get for any gift giving occasion. Zoomer makes a great pet and you don;t have to worry about him getting fur on your clothes and furniture.
When I first saw this little guy, I fell in love. He is a precious real best friend for kids ages 5 and up. Zoomer is always happy to see you and wants to play and be petted. You can even take him for walks.
If you have been looking for a pet for your child that doesn't require cleaning up messes and very little teaching in the way of training, Zoomer, the Robot Dog, is your puppy. He has a puppy personality which means sometimes he gets frisky and wants to play!
Zoomer can recognize you and your voice. He also understands English, Spanish, and French. Zoomer is a pretty smart puppy!
Another great quality of Zoomer the Robot Dog is that he doesn't shed hair all over your house and car.
Zoomer the Robot Dog
Meet Zoomer, your new real best friend who will bark, talk, scoot around, and play with you! Finally, a dog made just for kids!
Just like a real puppy, he loves to learn new tricks. Teach him to speak, sit, lay down, rollover, shake a paw and more!
He is so bright he understands your voice in English, Spanish and French.
For children who can't wait to adopt a real puppy ages 5+. Recharge Zoomer by using his included USB cable.
Includes: 1 Zoomer, 1 USB Charging Cable, 1 Instruction Guide, 1 Reference Guide
More Views of Zoomer the Robot Dog
Zoomer and You
Zoomer the Robot Dog is perfect for those who live in apartments or smaller spaces where there is no place for a full grown dog to run and play. There is no concern that he will bite your child, the mailman, or the neighbors. There is no fear that Zoomer will run out the door and into the street, nor will Zoomer chase cars. You will have no midnight "walks" nor taking up half the bed from this little puppy. The one thing you can be assured of is smiles. He will steal your heart just as he did mine.
Zoomer Puppies, Zuppies, Dinos and More from Walmart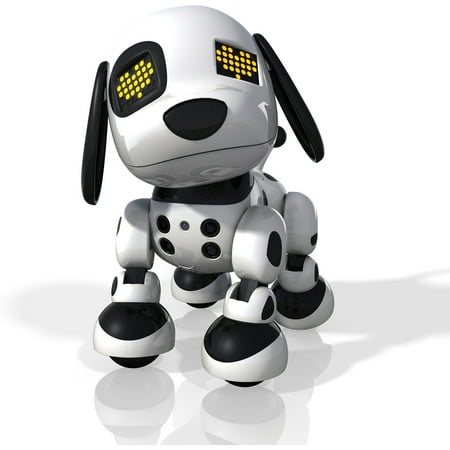 Zoomer Zuppies Interactive Puppy,
Zoomer 2.0 Interactive Puppy,
More Robot Puppies
On the small chance that Zoomer the Robot Dog is not the perfect pet for you or your child, I have found more Robot Dogs that may be the one you want. Clicking any picture will take you to the website for more detail and/or to purchase.
 Tekno the Robotic Teksta Robotic Puppy WowWee Wrex the Poo-chi Interactive Puppy Sony AIBO ERS-210
Find Zoomer the Robot Dog or other Robot Dog on Ebay!